Welcome to the new WEcare line of WEbooks!



What is WEcare? It's a new series of books that dives deep into subjects that we all care about. Or, in some cases, into things we should care about more. WEcare books will be devoted to topics that draw out our deepest passions: things like family, community, and social justice. They will search for truth. They will champion without the need to be a champion. In short, they will have soul.

WEcare projects are sponsored by the WEbook editorial staff and will become published books. They are open to submissions from anyone registered on the site. As such, WEcare projects will not only represent a great opportunity for community members to get published, but will also be a hub of feedback activity. Each WEcare project will be open for about three to five months. WEbook editors will choose the winning submissions and announce their selections shortly after the project is closed. Each book will then be fast-tracked to publication.

Ready to roll? The first three WEcare projects are listed below. To find out when we launch new ones, check out the Projects page from time to time.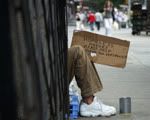 Homelessness is a crisis of anonymity. By the time the average person lands on the street, they are effectively forgotten, a statistic, a bit player in a larger social problem. Yet every homeless person starts out like you and me on some level. Each has a mother and a father, maybe even a family that has lost track of them. And each has a tale to tell. (NOTE: This project requires a signed release. Click here for details.)
There are few things as wizened as a mother who has been there and done that. Unless of course you're her daughter and you were there while she was "going there and doing that." Then you might have a different idea about the relative wisdom of your Mom. You might even have a few suggestions she and other mothers could learn from.
So what are fathers supposed to teach their kids anyway? How to ride a bike, throw a baseball, a left hook? Sure. But what about the deeper truths, the "quiet desperation" stuff that Thoreau talked about? And what about daughters versus sons? Are the lessons different? Tell your story here.